Profile
Grant Access
Subscribe
Track Account

Dare to be different and learn to be lonely
Premium Paid Account
Created on 2009-04-27 16:26:06 (#127595), last updated 2017-06-20 (2 days ago)
11,483 comments received, 77 comments posted
2,024 Journal Entries, 204 Tags, 1 Memory, 189 Icons

About

Mini Bio
I have so much to tell you... Scroll down for bio in words:)
(WARNING: Clicking on blogbanners will lead you to my other blogs...)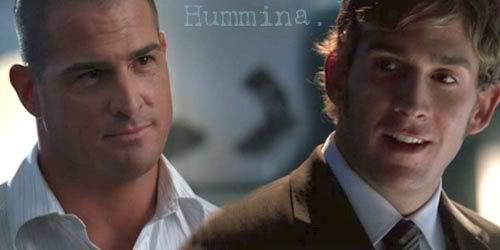 (Nick/Greg will always be my OTP:)
What do you mean "Get a life!"? This IS my life!
A work in progress: the CSI styleguide
(click for 1024x768 wallpaper editions;)




Click for more pretty
:
(rubbing Nick will take you to my artcorner;)

A selfish kind of life
I started my journal because I found this really cool lj-community dedicated to CSI-s Nick & Greg and I didn't want to be Anonymously Lurking Person. Next thing I knew I made friends and that journal kind of got out of hand *g* Now I'm here at Dreamwidth too; you can never have enough journals:)
Besides being obsessed about CSI, I regularly fangirl about Buffy, Angel, Torchwood, Doctor Who and possibly about music I recently got into. I'm also a movie-freak, although these days I avoid the cinema because of the people with mobiles and mouths. I still occasionally go to the arthouse and I have a big screen up in my attic.
The world is quiet here
I love books as well and am happy to announce that even though I've let the computer take over my life, I've managed to find time to read offline again. I still love reading fanfic and porn on the interwebz, but I am now able to step away from the evil machine on a regular basis to sit down with a proper book :-)
Occasionally I go outside...
I've travelled quite a lot, mostly on my own: by bus through most of the states in the USA (including Alaska, but not Hawaii) plus Canada (in different years;) By train through Europe: Netherlands (duh) - Belgium - Luxembourg - France - Spain - Portugal - Italy - Switzerland - Germany - Danmark - Norway - Sweden - Finland - Poland - Czech Republic - Hungary - Greece - England - Scotland - Wales. (I got kicked out of Bulgaria, travelled through Slovakia by night and only spent time on trainstations in Austria, so those don't count;)
I've also been to Australia, Indonesia, Singapore, Egypt, South-Africa (plus Lesotho and Swaziland), took the Trans-Siberia express from Moscow to Beijing with a stop-over in Mongolia and spent some time in Xi'an (China:). I visited the Dutch Antilles (all but Aruba) and on my last big trip
I sort of studied Spanish in Ecuador
. Most recently I spent a couple of days
in Istanbul
. India is high on my list of must-see places.
Happy happy, joy, joy
I'm a very happy single. Haven't had a serious relationship, ever, but have fond memories of both summerflings all those years ago (not at the same time;-)
I'm bisexual
, madly in love with myself, so I'm very much celibate. Ehm... that was really something you needed to know.

Connect
abba
,
angel
,
being human
,
bisexual
,
blogging
,
bob ross
,
books
,
buffy
,
cake (the band)
,
chocolate
,
csi
,
david tennant
,
design
,
doctor who
,
feminism
,
franz ferdinand
,
greenday
,
guys
,
hornblower
,
j2
,
jon stewart
,
men
,
movies
,
music
,
nick/greg
,
patd
, pippi,
politics
,
razorlight
,
reading
,
scissor sisters
,
seinfeld
,
slash
,
the who
,
torchwood
,
traveling
,
women

People
[View Entries]

Communities
[View entries]

Member Of (8):

Subscriptions (10):

Administrator Of (4):

Feeds
[View Entries]

Linking
To link to this user, copy this code:
On Dreamwidth:
Elsewhere: